Home Security Lighting. - Domestic Outdoor Lights.
Looking for outdoor security lighting? Outdoor lighting can be a great addition to your home for multiple reasons.
ST Electrical Services Northampton electricians are very experienced at installing dozens of outdoor security lights and outside LED lights in general so we feel confident we can help you feel safer at home.
They are many different types of outdoor security lighting system available on the market, the most common we see in Northampton is the halogen flood light. Halogen lighting is very powerful, but the big draw back is that it consumes more energy than any other type of outdoor lighting.
Home outdoor security lights are used to discourage burglars from entering their home, it can also help you park your car in the driveway when you are coming back home late at night.
Which outdoor security light should you choose?
With so many security lights to choose from, which one is better for light and energy?
Halogen Outdoor Flood Light.
As mentioned above, the halogen outdoor light is probably the most common outdoor security lighting system used across Northampton and the rest of the UK. Halogen is a very powerful outdoor light, as bright as car headlights if not brighter.
The only problem with a halogen light is the hassle of changing the bulb when it blows (fitted with greasy fingers) and the fact is can consume more energy than let's say an LED light.
Motion Sensor Outdoor Flood Light.
Alot of outdoor security lights are fitted with what is called a PIR which means a passive infrared sensor. Unlike other outdoor security lights on the market, outdoor motions sensor lights only turn on when a moving object is detected within its range.
This type of security lighting can use a variety of bulbs, halogen and LED. The only problem with PIR outdoor lights is their sensitivity to small animals which will trigger the light when detected within its range.
Solar Powered Outdoor Light.
They work in very much the same way as other outdoor lights, fitted with LED's and a PIR sensor. Generally the cheaper ones don't give you much light and break after a few months.
The better, more expensive solar outdoor lights are very powerful and can last up to 6 hours from a single full day of sun.
Outdoor security LED light.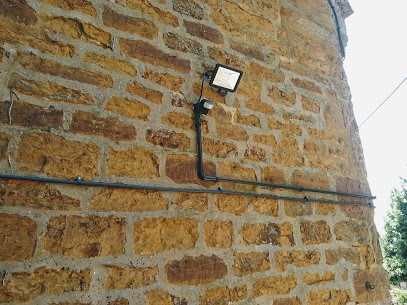 Fitted 3 LED Outdoor security lights - all with a PIR sensor fitted.
Another security LED light.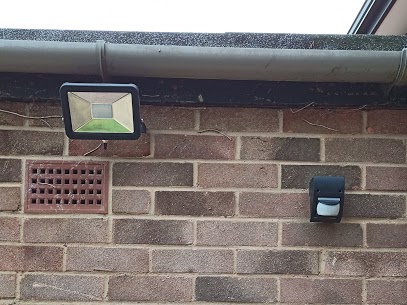 Driveway security LED light. Also used to see parking of car.
Conduit system fitted for outside lights.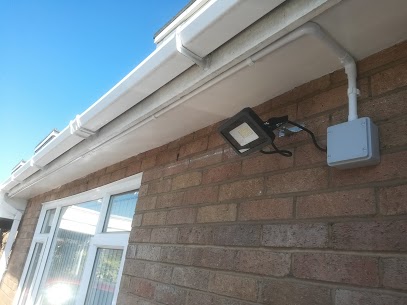 Nice & neat conduit system fitted for outside security lighting.